My iphone5 (ios 6.1.2 - Untethered By Evasi0n) got bricked because i installed this "Zelda Sound FX" tweak on Cydia for Winterboard & ever since that my iphone didn't boot up, it got stuck on the apple logo then it dims… And it stays like that.
So what tripped me out was when i connected my iphone to my windows 7 laptop,
it detects it & my camera roll comes up perfectly fine, even itunes detects it but
the problem is it wont let me restore it because i've got a passcode & there's no chance of removing it because it won't boot up.


(i also read if i wanted to keep my jailbreak, i coulda just re-jailbreak it with Evasi0n and it would go back to normal but some problem, it asks me for a passcode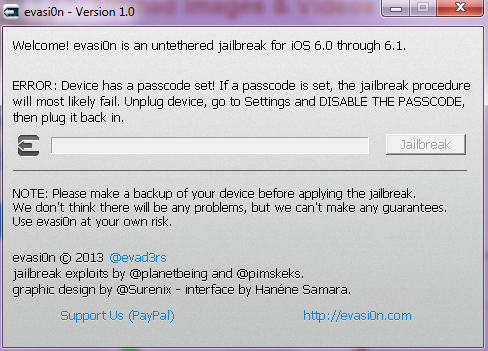 ).
so i deleted all of my Winterboard themes/tweaks with iSpirt and it doesn't make a difference when i hard reset it.
i also went into DFU mode & it doesn't pop up on "my computer" or even on itunes…